Nov
26
Mon
November 2018 Monthly Presentation: American Kestrels and Ecosystem Services in Michigan's Fruit-Growing Regions

@ People's Church
Nov 26 @ 7:30 pm – 8:30 pm
Join Catherine Lindell for the third presentation of ASK's 2018-2019 program season as she introduces us to the American Kestrel and its role in fruit raising. This talk will describe efforts to help fruit growers, fruit consumers, and American Kestrels, North America's smallest falcon, by enhancing our agricultural landscapes with nest boxes.
Dr. Lindell is Associate Professor in the Department of Integrative Biology and the Center for Global Change and Earth Observations at Michigan State University. She and her students investigate the roles birds play in agricultural and restoration contexts. She teaches courses in ecology and tropical biology.
You are invited to join us to meet and hear Catherine on November 26, 2018, at People's Church, 1758 North 10th Street, Kalamazoo. Our program starts at 7:30 PM and is preceded by a social time with light refreshments at 7:00 PM. Guests and the public are encouraged to attend. Handicap parking and access is at either the front or rear entrance of the building. Please remember to bring your own coffee mug to reduce dishwashing.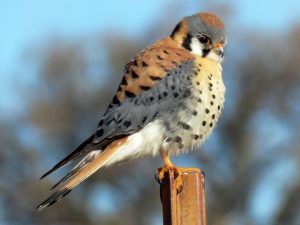 Photo: Cornell Lab of Ornithology